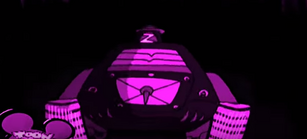 Zurg's Space Tanks are heavy warfare weapons, that Zurg uses them to keep out foes and patrol Zurg's empire. Originally featured from the television series, Buzz Lightyear of Star Command, the Space Tanks are briefly featured in the third part of Disney vs. Non-Disney Villains War and in Heroes vs. Villains War.
Disney Vs Non-Disney Villains War - Part Three
While patroling Planet Z, with the use of his space tanks, in the early events of the war, Zurg is ambushed by the Mutants of Denebria, led by the military captain, Flogg. To end his problem with the Mutants, Zurg calls upon the Mega-Hornet to finish them off. The Hornet succeeds, as it drives the mutants out of the planet. As for the space tanks, they are not seen again for the rest of the war.
Heroes Vs Villains War
With the forces of Zurg dealing with the R.L.S. Legacy, Zurg himself remains in the shadows, only to reveal himself, to the Iron Giant and the Space Crew of Dagg Dibrimi. He uses the space tanks, in hopes of frightening the heroes, only for them to strike back. After the Iron Giant's fall, Zurg sends a group of tanks, to surround the Iron Giant. The space tanks are not featured aftewards.
Community content is available under
CC-BY-SA
unless otherwise noted.