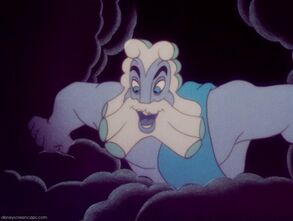 Zeus, not confused with the titular character from the disney movie, "Hercules", is a neutral personality in the short, the Pastoral Symphony, segment to the 1940 film, "Fantasia". This version of Zeus depicts him as a dark entity, who bothers Bacchus and several other mythological creatures. This dark version of Zeus is featured in the final events of Disney Villains War.
Disney Villains War
Origins
For early events of the war, see here.
Over the years, Zeus becomes influenced by the dark magic of Chernabog. It is not long enough, when Zeus falls to Chernabog's inner darkness, becoming a corrupting entity, ruled by fear and insanity. Despite his terrible change, Zeus still remembers his old grudge with Chernabog, as it was shown in the Prologue of the war.
Revenge
Eventually, Zeus becomes involved in the final stages of the war, as he travels to Bald Mountain for a final encounter with the Black God, after Chernabog beats every living villain, found in the universe. Zeus then blasts at him uncountable lightning bolts, forcing the Black God and his minions to retreat back to their former place, before they were resurrected. Upon Chernabog's defeat, Zeus regains rest and puts himself in a state of an unconscious state, not wanting any involvement in the war, since he has suceed in his goal to defeat Chernabog.
Community content is available under
CC-BY-SA
unless otherwise noted.