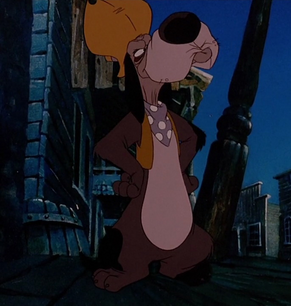 Wylie Burp is a Great Dane of the Wild West among the animals of America, who in his day kept the law enforced in Green River, defeating the Cactus Cat Gang. Fievel idolizes him, and he is one of the reasons Fievel eagerly moved out west. When Fievel discovers Cat R. Waul's plot, Wylie Burp becomes Fievel's final hope. But, when Fievel finally meets him, Wylie is a shell of his former self; an over-the-hill, down and out drunkard whose spirit had been broken. But Wylie is so taken by Fievel's determination that he offers to teach a younger dog to be tough, and to be the new law in Green River. He managed to train Tiger into becoming a tough dod, able to rival Waul and his gang. Eventually, the trio managed to save the mice from Waul's clutches. He is set to appear in the second Heroes vs Villains, and will most likely face Fat Cat and his henchmen.
Community content is available under
CC-BY-SA
unless otherwise noted.