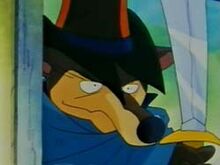 Wilde Wolf (Gretel Wolf in the Japanese version) is the main antagonist of the Maple Town anime. He is an adult wolf dressed in bandit-like clothing. He first appears in the episode Welcome to Maple Town when he appears on the Maple Town train, trying to take the passengers' belongings and interrupting the train ride. Over the course of the anime, he often disturbs the peace in the town by performing villainous acts to the citizens such as forcing Danny Dog (Johnny Kraft) to place Fanny Fox (Diana Konderik)'s necklace onto his sword (which is Wilde's trademark weapon) in The Stolen Necklace, only for them to fail. He was voiced by Steve Kramer in the English version.
He appears in Worst Hero And Villain War Ever as a minor player.
Worst Hero And Villain War Ever
Finding Pet Prey
Wilde finds Garfield and Snoopy from the forest all alone, wanting them to be his prey, when Woodstock notices him. Garfield hides inside an hollow stump and Snoopy runs away. As Wilde is threatening them with his sword Odie licks him from behind, surprising the wolf away. Wilde then runs after Snoopy, who climbs up a tree. Wilde follows him, letting Snoopy to hit him in the head and escape with Woodstock, Garfield and Odie.
Alliance with Teufel
Later, Wilde is called to Banipal Witt, the world of cats by criminal leader Fritz Teufel, alongside Ali Cat. Fritz gives them offer to lead a resistance against all humans who are destroying Banipal Witt with their actions. Wilde raises his sword threateningly, accepting the offer.
Community content is available under
CC-BY-SA
unless otherwise noted.