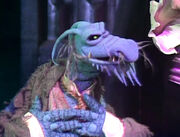 Uncle Deadly
is a Muppet known as "the Phantom of the Muppet Show". A blue, reptilian-looking creature, Uncle Deadly is a theater lover until his death by the critics of
Othello
's show perfomance who saw him as nuisance. Ever since, he haunts the Muppets' theater show, though he often partakes in the group's musical numbers, becoming one of the greatest hosts.
Uncle Deadly has also made several appearances outside of his original show, including the 2011 film adaptation of The Muppets, where he appears as a former antagonist turned anti-hero. In particular, he appears as Tex Richman's henchman before disregarding him after his attempt to shut down the Muppets' theater show.
In the villain wars, Uncle Deadly appears as a bit player, assisting Tex and his allies on their goals to expand their influence upon the world.
Disney Villains War 3
Disney Heroes Vs Villains War - Part Two
Community content is available under
CC-BY-SA
unless otherwise noted.