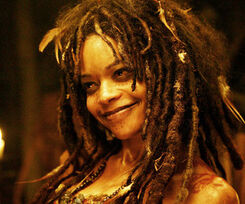 Tia Dalma is a mystic, controlling over voodoo-like magic. She appears as the host of Calypso, a goddess once in love wth the deadly pirate, Davy Jones. She is one of the minor protagonists in the Disney's 2006 film, "Pirates of the Caribbean: Dead's Man Chest" and it's sequel, "Pirates of the Caribbean: At World's End". Tia Dalma appears as a minor player in Disney Villains War - Part Three. However, in the war, she portrays a seller art to those who would need her help.
Disney Villains War 3
Transforming a Human into a Monster
Staying in the outskirts of the war, Tia Dalma gets a surprise visit from a stranger, who wanted her help to take his son back from the clutches of Ian Mercer. Tia agrees to help him and she gives him unimaginable power, although in the process, the power, that Tia gave to him, costed his entire life, as it was a curse upon the stranger. From known on the stranger would be known as the Dark One, Rumpelstiltskin.
All Magic Comes With A Prize
After his fight with Mercer, Tia Dalma approaches Rumpelstiltskin, demanding to give her power back to her, since his job was done and his son was safe. When Rumpelstiltskin refuses to give her power, Tia, wanted to show that all magic comes with a prize, opens a portal to another realm, that sucked on Rumpelstiltskin's son, Baelfire. Angered about losing his son, Rumpelstiltskin attempts to attack the mystic, only for her to reduce herself into a mass of crabs, so that she would escape from Rumpelstiltskin.
Community content is available under
CC-BY-SA
unless otherwise noted.