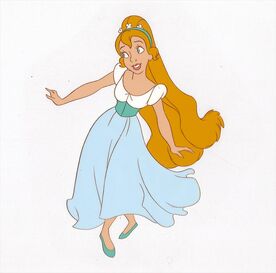 Thumbelina is the titular protagonist of the Hans Christian Andersen's eponymous fairytale and of the Don Bluth's resulted animated feature film of the same name. She is a young and beautiful midget lady, whose curiousity on the outside world led her into a full-time adventure in the wild. Initially, being sought by the greedy Berkeley Beetle and the lustful Grundel Toad, Thumbelina found help in the form of her newfound friends, including Li'l Bee, Gnatty and Baby Bug, and her future love interest, Prince Cornelius, whom she later became engaged with him. She appears in the events of Heroes vs. Villains War, providing moral support for the forces of good.
Heroes Vs Villains War
Community content is available under
CC-BY-SA
unless otherwise noted.