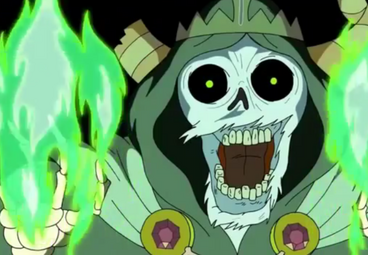 The Lich is one of the primary antagonists of the Cartoon Networks' animated series Adventure Time. A primordial ancient being and the manifestation of "Death" himself bent on destroying existence itself, the Lich is arguably one of the most menacing villains to date. He appears as one of Chernabog's Acolytes in the third Disney vs. Non-Disney Villains war.
Disney Vs Non Disney Villains War - Part Three
Cartoon Villains War
Vs Aku
Thousands of eons ago, before humanity or even time itself existed, monsters, demons, and all manner of eldritch creatures ruled the cosmos. One of the oldest and most powerful of them all was the spirit of destruction and death known only as the Lich, a being of pure darkness who ruled over all the others with an iron fist. However, an upstart demon known as Aku chose to rebel against the Lich and usurp his power for himself. Acting on his intentions, Aku launched an attack on the Lich's lair, where the creature was plotting with his acolytes (two chaotic spirits known as Mirage and Bill Cipher), and openly challenged him. The Lich accepted Aku's challenge, and the two dueled for supremacy. Although Aku's power was great, it was no match for the Lich, who quickly gained the upper hand and severely damaged Aku's body. However, as the two were dueling, Bill Cipher's treacherous nature began to manifest, as the acolyte saw an opportunity to betray his master and seize power for himself. As the Lich prepared to finsh Aku off, Bill attacked from behind, briefly paralyzing him with magic. Although the Lich was only stunned for a moment, that was long enough for Aku, who completely obliterated the Lich's body with several thrown fireballs. Impressed, Mirage decided to join Bill, as the two turned on Aku, double-teaming him before he even had the chance to celebrate his victory. The two bombarded Aku with blasts of magic, seemingly destroying him. Recognizing that the Lich was so powerful that the destruction of his body would only be a temporary solution, Bill convinced Mirage to combine their powers and cast a spell that would keep the Lich from ever returning, as long as they were alive to maintain the spell. Now free to do as they pleased, the two went their separate ways. Unbeknownst to them, a piece of Aku's essence survived, and, after floating in space for several hundred eons, landed on Earth.
Community content is available under
CC-BY-SA
unless otherwise noted.