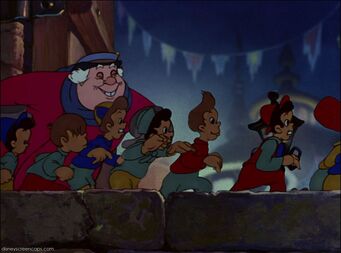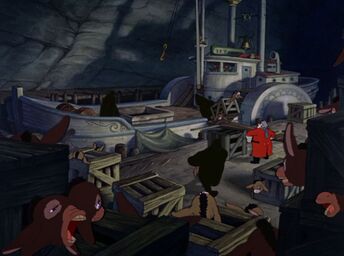 The Coachman's Victims are countless children who have been transformed into donkeys over the years by the twisted Coachman.
Disney Villains War
The children appear briefly in this war. While not seen in the first events, they were mentioned by the Coachman, as the sinister figure hires Amos Slade and Alameda Slim on purpose to kill Kaa and Lumpjaw, two dangerous threats that terrorise the children closely to Pleasure Island. With the elimination of Kaa and Lumpjaw, the children go to the amusement park to entertain themselves, as the Coachman promises them amuse and fun inside Pleasure Island. This action, however, leads them to their doom, as the children are transformed into fearfull donkeys and they are later sold by the Coachman and his shadow minions to the salt mines. Although, the Coachman met his end at the hands of Doctor Facilier, the fates of the children were still unknown, but it is pressumed that they were sold by the Coachman's Goons.
Disney Villains War Reboot
The Coachman's victims briefly appear when the Coachman sets a base in the African jungles to continue the hunting season.
Disney Heroes Vs Villains War
Though they appear with the Coachman's other captives in this war, it is unknown what happens to them after the downfall of the Coachman in the later stages of the war.
Heroes Vs Villains War
Community content is available under
CC-BY-SA
unless otherwise noted.