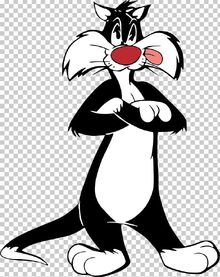 Sylvester is a Tuxedo cat who appears in the Looney Tunes and Merrie Melodies series of cartoons. He often chases Tweety, Speedy Gonzales, or Hippety Hopper. When depicted with an owner, he is mainly with Granny; but very early on he would be with Porky Pig. Sylvester, in main roles and cameos, has appeared in 103 Warner Bros. shorts between 1945 and 1966, making him fourth most frequent character, after Bugs Bunny, Porky Pig, and Daffy Duck, respectively.
Community content is available under
CC-BY-SA
unless otherwise noted.