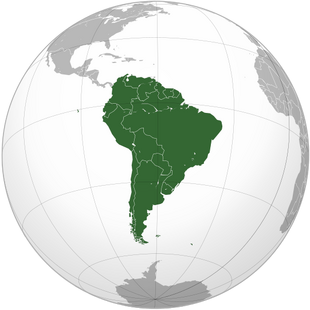 South America is a continent in the Western Hemisphere, mostly in the Southern Hemisphere, with a relatively small portion in the Northern Hemisphere. It is bordered on the west by the Pacific Ocean and on the north and east by the Atlantic Ocean; North America and the Caribbean Sea lie to the northwest. It may also be considered a subcontinent of the Americas, which is how it is viewed in the Spanish and Portuguese-speaking regions of the Americas. The reference to South America instead of other regions (like Latin America or the Southern Cone) has increased in the last decades due to changing geopolitical dynamics. South America has an area of 17,840,000 square kilometers (6,890,000 sq mi). It is the fourth worldwide largest continent, (in terms of appearance, (after Asia, Africa, and North America), and the fifth worldwide continent, in terms of population (after Asia, Africa, Europe, and North America). Brazil is by far the most populous South American country, with more than half of the continent's population, followed by Colombia, Argentina, Venezuela and Peru.
Regarding the villain tournaments, South America appears in a minority in the series, with the exception of Brazil and Peru, which are heavily featured in the series, the latter serving as one of the main battle sceneries. Other that that, South America is not heavily featured in the series, at all.
Community content is available under
CC-BY-SA
unless otherwise noted.