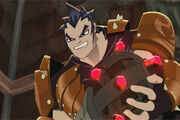 Snipe
is a minor antagonist in the animated series,
Storm Hawks
. Snipe is a minor player in a variety of villains tournaments.
Non Disney Villains Tournament
Beaten at His Own Game
Snipe argues with his sister, Ravess, as to the best way to defend Cyclonis's base. Such arguing proves to be a waste of time, as three Rahkshi enter the lair and begin causing havoc. Snipe tries to bash a Rahkshi with his mace, but the blow bounces off its magical shield. The Bionicle then knocks Snipe away with some magic. It is through the Dark Ace's intervention that Snipe survives.
Community content is available under
CC-BY-SA
unless otherwise noted.