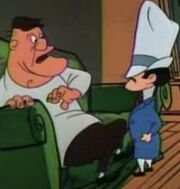 Rocky and Mugsy are a pair of old-school gangsters from Looney Tunes who have come into conflict with Bugs Bunny and other Looney Tune characters in various cartoons. Although not as common as legendary villains, such as Yosemite Sam or Elmer Fudd, these two did appear more than once and are fairly recognizable characters both in appearance and behavior. Rocky is the leader, and Mugsy is the comic relief.
Community content is available under
CC-BY-SA
unless otherwise noted.