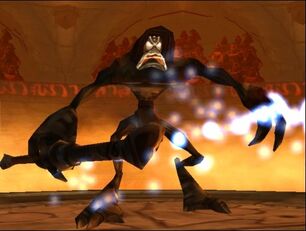 Reflux is a boss character in Rayman 3: Hoodlum Havoc. A notable member of the Knaaren species, he is larger and stronger than any of his brethren, and can usually be found with his sceptre in hand.
Reflux appeared in Worst Villain Tournament Ever as Rigatoni's minion.
In WVTE
Reflux was sent by Rigatoni to capture Jap-Koopa and bring him to Alliance to End Koopalliance.
Reflux attacked Jap-Koopa after Krusha and Klump had informed Jap-Koopa to "watch the skies." Reflux almost destroyed Jap-Koopa's fortress, when King Koopa appeared and unfocused Reflux, so Jap-Koopa could breath fire on him. Fire ended up killing him.
Worst Hero and Villain War Ever
Community content is available under
CC-BY-SA
unless otherwise noted.