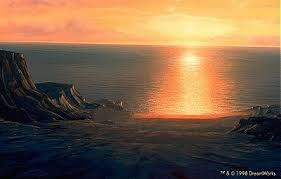 The Red Sea (also known as The Erythraean Sea) is a seawater inlet of the Indian Ocean, appearing as a boundary between the continents of Africa and Asia respectively. It shares borders in the south through with the the Bab el Mandeb strait and the Gulf of Aden in the south, and with the Sinai Peninsula, the Gulf of Aqaba, and the Gulf of Suez on the north. It is the world's northernmost tropical sea.
The Red Sea has also been the subject of the Biblical narrative The Crossing of the Red Sea, told in the Book of Exodus. Particularly, the Hebrews, led by Moses, crossed over to the other shore of the Red Sea, as the miraculous will of God, acting through Moses, seperated the water into two directions, creating an opening for them to escape from the Egyptian empire. The Biblical narrative has passed on as source material to modern fiction works, including the Dreamworks' animated film, The Prince of Egypt.
That said, the Red Sea's archive footage, as seen from The Prince of Egypt, is used to represent the River Nile, in both the Non-Disney Villains Tournament and Non-Disney vs. DC Villains War respectively. However, the real location is displayed in the Heroes vs. Villains continuity, appearing as one of the main battle sceneries.
Community content is available under
CC-BY-SA
unless otherwise noted.