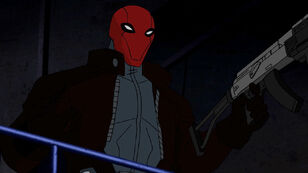 Red Hood
is a secret alias, used by villains who hunt down the Batman. Serving initially as the former alias of
the Joker
, before becoming his mutated transformation, Red Hood is also displayed as the secret identity of hero Jason Todd, in various DC comics and adaptations. Red Hood also appears in the Non-Disney vs. DC Villains War, with the appearance of the
Batman: Under Hood
's version, taken from the
DC Universe Animated Original Movies
.
Non-Disney Vs DC Villains War
Crashing a Party
Red Hood crashes a party, hosted by Carmine Falcone, announching the dangers of the upcoming war.
Real Fight
While maneuvering Gotham City, accompanied by his new recruit, Red X, Red Hoo stumbles upon Hak Foo, an enforcer of the Dark Hand, sent by Valmont, to eliminate Red Hood, after his interference on Valmont's goals. Hak Foo manages to beat down his foe, with critical hits. While Red Hood easily falls, Red X proves to be a great opponent, as he manages to hold off his foe, and deflect most of his attacks. Upon recovering, Red Hood teams up with Red X to beat him down, eventually defeating him.
Community content is available under
CC-BY-SA
unless otherwise noted.