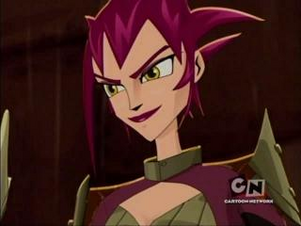 Ravess
is a secondary antagonist in the animated television series,
Storm Hawks
. She is a minor player in a variety of villains tournaments.
Non Disney Villains Tournament
Retrieval
When Remington Smisse steals an artifact that Queen Cyclonis desires, Ravess and the Dark Ace are sent to track him down. Ravess tries to destroy Smisse's footing, but he manages to escape. Smisse manages to find ground, fighting off the Dark Ace and his fighters in the meantime. Ravess seizes the opportunity to shoot away most of the remaining ground, leaving Smisse trapped at a dead end. Ravess and Dark Ace steal back the artifact, Smisse left with only his life.
Saved
Ravess argues with her brother, Snipe, as to the best way to guard Cyclonis's base. Soon, three Rahkshi enter. Ravess looks on, only to get a blast of energy to the face. Another Rakshi knocks her away with a magic blast. Ravess tries to shoot them with her bow, but the Rakshi disarm her before she can get off a shot. Ravess ends up owing her life to the Dark Ace, who ends up defeating the threat.
Community content is available under
CC-BY-SA
unless otherwise noted.