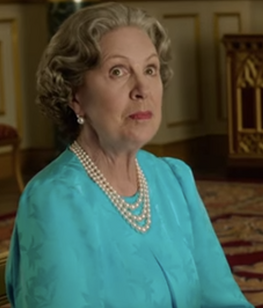 Queen Elizabeth II is the Queen of the United Kingdom, known for being the longest-lived and longest-reigning British monarch, as well as the world's longest-serving female head of state, longest-reigning monarch, and the oldest and longest-serving head of state. During her reign, she was portrayed in many assorted British films and television shows, depicting her grace, nobility, and virtue upon her subjects, including the 2016 Disney film, The BFG, based on the book of the same name by Roald Dahl.
In the book and film, Queen Elizabeth is a benevolent ruler of England, respected among her subjects. Initially frightened by the man-eating giants, she finds aid from an unlikely source, as the eldery and benevolent BFG assists the Queen and the country, defending it from the threat of the giants. Eventually, the British army manage to defeat the giants and send them to their homeland.
Regarding the villain wars, Queen Elizabeth appears in the live-action segment of the second Disney Heroes vs. Villains as one of the prominent royal figures allied with the White Queen and Aslan.
Community content is available under
CC-BY-SA
unless otherwise noted.