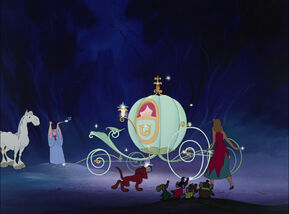 The Pumpkin Coach is an animated pumpkin, turned into a carriage, created by the Fairy Godmother. Initially, serving it's purpose as Cinderella's transportation means to the royal ball, where she would meet Prince Charming, the Pumpkin Coach is also displayed to carry the heroes' assignments. As such, the Fairy Godmother summons the carriage, to deliver Donald Duck and Goofy's assignment to find Mickey Mouse, before being destroyed by Shan Yu's Hun army, as seen in Disney Heroes vs. Villains War. A malevolent form of the Pumpkin Coach appears in the final events of Disney vs. Non-Disney Villains War, created by Lady Tremaine, and owned by the cat, turned briefly into a human coachman, Lucifer, to stop her enemies, from approaching Egypt, including Rameses.
Community content is available under
CC-BY-SA
unless otherwise noted.