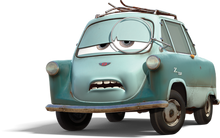 Professor Z is the secondary villain in Cars 2.
Villains War (Legion of Darkness)
Joining Mojo Jojo
Mojo Jojo decide to join in war by teaming with Shego and Professor Zundapp.
Vs Napoleon
Mojo Jojo decide to test Professor Z to deal with Napoleon. They arrived at the farm to negotiate. During their talk, Grem and Acer use EMP to control the animals to kill Napoleon. What will Napoleon do about that?
Yu-Gi-Oh! GX Heroes vs Non/Disney Villains War