He is a Scooby-Doo villain.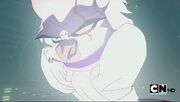 Non Disney and Cartoon Network Heroes vs Villains War
Villains War (Legion of Darkness)
Vs Syndrome Forces
After hiring Professor Pericles and Professor Poopeypants, Mojo Jojo decide to take them and his newest army, to conquer Syndrome's Island, for having enough technology for his plans. However, Syndrome spotted them and send his backup forces to rid of Mojo's Army. Which side will be victorious?