(2 intermediate revisions by 2 users not shown)
Line 1:
Line 1:
 

[[File:Pocahontas.jpg|thumb|265x265px]]

 

[[File:Pocahontas.jpg|thumb|265x265px]]

 

'''Pocahontas''' is the daughter of [[Chief Powhatan]] and a woman of [[the Powhatan Tribe]]. Despite the tensions between their people, she fell in love with the English settler [[John Smith]] despite the efforts of the corrupt [[Governor Ratcliffe]]. When the forces of evil threatened her forest home, she answers the call to defend it in [[Disney Heroes vs. Villains]].

 

'''Pocahontas''' is the daughter of [[Chief Powhatan]] and a woman of [[the Powhatan Tribe]]. Despite the tensions between their people, she fell in love with the English settler [[John Smith]] despite the efforts of the corrupt [[Governor Ratcliffe]]. When the forces of evil threatened her forest home, she answers the call to defend it in [[Disney Heroes vs. Villains]].

 
+
 
+

<br />

 
+
 
+

== Disney Heroes Vs Villains War ==

 
+
 
+

=== Battle of Native Lands ===

 
+

The English [[Ratcliffe|Governor Ratcliffe]], along with the mercenary [[Commander Rourke]] and Clayton (who had been secretly working for both Ratcliffe and McLeach in hopes of doubling his profits) sailed for the [[Native Lands]], a region of untouched wilderness inhabited only by native tribes and animals, tasked with conquering the area for Maleficent. As the Inuit tribesman-turned-bear [[Kenai]], his young charge [[Koda]], and the two moose [[Rutt and Tuke]] looked on, the [[The Powhatan Tribe|Powhatan tribe]] led by [[Chief Powhatan]] and his daughter [[Pocahontas]] rowed out in canoes to meet the visitors. Suddenly, a flare lit up the sky as Ratcliffe and [[Ratcliffe's Colonists|his army of colonists]] landed on shore, ready for battle. The Powhatan warrior [[Kocoum]] charged Ratcliffe, but Rourke shot him dead with his pistol. Kenai took shelter behind a log, but Koda wasn't so lucky, being cornered by Clayton. As the hunter raised his shotgun, Kenai leapt out and knocked Clayton to the ground, giving him and Koda an opening to run for safety. Behind them, Ratcliffe gave the order to open fire, with [[Mercenaries (Atlantis: The Lost Empire)|Rourke's mercenaries]] using machine guns, rifles, and explosives against [[The Powhatan Warriors|Powhatan tribesmen]] armed with bows. The Powhatan took heavy casualties and were forced back as Rourke set off a series of bombs that brought down much of the surrounding forest. Pocahontas, the Powhatan, Kenai, and Koda could only watch in horror as Ratcliffe claimed the Native Land for Maleficent.

 
+
 
+

=== Vs Rourke ===

 
+

After taking over the Native Land, Ratcliffe sent Rourke to smoke out any natives who were still resisting his army. Rourke found Pocahontas, who was seeking the wisdom of the tree spirit [[Grandmother Willow]], and chased her deeper into the forest. Rourke's second-in-command [[Helga Katrina Sinclair|Helga Sinclair]] fired on Pocahontas with a flare gun, starting a forest fire. Escaping into a canoe, Pocahontas rowed across a river to escape the flames and sought shelter in a tree, but Rourke's forces continued their pursuit. As Rourke and his caravan closed in on Pocahontas, the benevolent settler [[John Smith]] fired on a cliffside by the mercenaries, setting off a rockslide that buried the caravan. As Pocahontas thanked John Smith for saving her, Rourke snuck away, having survived.

 
+
 
+

=== Teaming with Dehani ===

 
+

As the forest fire started by Rourke and Helga spread further, Pocahontas and John Smith decided they needed to find a way to drive Ratcliffe and his forces out of the Native Lands. They were not alone, however. Finding the Inuit hunter [[Denahi]] also watching the forest burn, they discovered that he was looking for a bear that he believed had killed his brother (not knowing that his brother, Kenai, actually was the bear). While mostly focused on his quest of vengeance, Denahi agreed to help the two heroes in their battle with Ratcliffe.

 
+
 
+

== Heroes Vs Villains War ==

 

[[Category:Disney Heroes vs Villains heroes]]

 

[[Category:Disney Heroes vs Villains heroes]]

 

[[Category:Disney Heroes]]

 

[[Category:Disney Heroes]]
---
Latest revision as of 08:20, 22 June 2021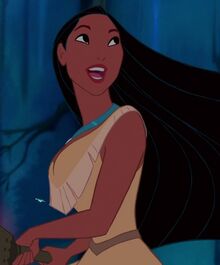 Pocahontas is the daughter of Chief Powhatan and a woman of the Powhatan Tribe. Despite the tensions between their people, she fell in love with the English settler John Smith despite the efforts of the corrupt Governor Ratcliffe. When the forces of evil threatened her forest home, she answers the call to defend it in Disney Heroes vs. Villains.
Disney Heroes Vs Villains War
Battle of Native Lands
The English Governor Ratcliffe, along with the mercenary Commander Rourke and Clayton (who had been secretly working for both Ratcliffe and McLeach in hopes of doubling his profits) sailed for the Native Lands, a region of untouched wilderness inhabited only by native tribes and animals, tasked with conquering the area for Maleficent. As the Inuit tribesman-turned-bear Kenai, his young charge Koda, and the two moose Rutt and Tuke looked on, the Powhatan tribe led by Chief Powhatan and his daughter Pocahontas rowed out in canoes to meet the visitors. Suddenly, a flare lit up the sky as Ratcliffe and his army of colonists landed on shore, ready for battle. The Powhatan warrior Kocoum charged Ratcliffe, but Rourke shot him dead with his pistol. Kenai took shelter behind a log, but Koda wasn't so lucky, being cornered by Clayton. As the hunter raised his shotgun, Kenai leapt out and knocked Clayton to the ground, giving him and Koda an opening to run for safety. Behind them, Ratcliffe gave the order to open fire, with Rourke's mercenaries using machine guns, rifles, and explosives against Powhatan tribesmen armed with bows. The Powhatan took heavy casualties and were forced back as Rourke set off a series of bombs that brought down much of the surrounding forest. Pocahontas, the Powhatan, Kenai, and Koda could only watch in horror as Ratcliffe claimed the Native Land for Maleficent.
Vs Rourke
After taking over the Native Land, Ratcliffe sent Rourke to smoke out any natives who were still resisting his army. Rourke found Pocahontas, who was seeking the wisdom of the tree spirit Grandmother Willow, and chased her deeper into the forest. Rourke's second-in-command Helga Sinclair fired on Pocahontas with a flare gun, starting a forest fire. Escaping into a canoe, Pocahontas rowed across a river to escape the flames and sought shelter in a tree, but Rourke's forces continued their pursuit. As Rourke and his caravan closed in on Pocahontas, the benevolent settler John Smith fired on a cliffside by the mercenaries, setting off a rockslide that buried the caravan. As Pocahontas thanked John Smith for saving her, Rourke snuck away, having survived.
Teaming with Dehani
As the forest fire started by Rourke and Helga spread further, Pocahontas and John Smith decided they needed to find a way to drive Ratcliffe and his forces out of the Native Lands. They were not alone, however. Finding the Inuit hunter Denahi also watching the forest burn, they discovered that he was looking for a bear that he believed had killed his brother (not knowing that his brother, Kenai, actually was the bear). While mostly focused on his quest of vengeance, Denahi agreed to help the two heroes in their battle with Ratcliffe.
Heroes Vs Villains War
Community content is available under
CC-BY-SA
unless otherwise noted.