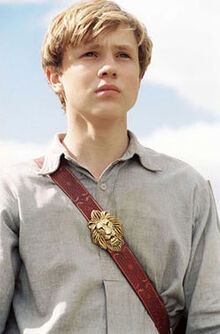 Peter Pevensie is the eldest sibling of the Pevensie family and a major protagonist in the C. S. Lewis novel nooks, The Chronicles of Narnia, and its resulted Walden Media film adaptations. A brother-figure, caretaker to his family, Peter once stumbled upon the realm of Narnia, ruled by Aslan himself, along with his siblings. There, he learned the skills of swordsmanship capable of drawing away the fearsome armies of Jadis, and the Telmarine armies of Miraz, while also making friendships with the inhabitants of Narnia, eventually becoming one of Narnia's rightful kings. He appears in the second Disney Heroes vs. Villains War as one of the main enforcers of the live-action universe. He is also confirmed to appear in the second Heroes vs. Villains War.
Disney Heroes Vs Villains War - Part Two
Heroes Vs Villains War - Part Two
Community content is available under
CC-BY-SA
unless otherwise noted.