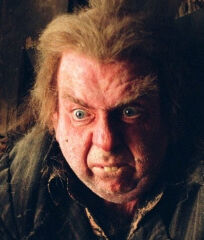 Peter Pettigrew is one of Voldemort's Death Eaters and a secondary antagonist in the Harry Potter franchise. A coward with the ability to turn into a rat, Pettigrew is also known by the pseudonym, Wormtail. He is a minor player in the second Disney Vs Non Disney Villains.
Disney Vs Non Disney Villains - Part Two
Losing the Lament Configuration
Lord Voldemort and Wormtail journey to find the Lament Configuration, a powerful puzzle box. They encounter Queen Narissa and her lackey, Nathaniel. While the two masters duel, Wormtail faces down Nathaniel, brandishing his magic wand so to intimidate him. However, Nathaniel draws a sword; a coward at heart, Wormtail transforms into a rat and flees from the battle.
Trivia
Both Wormtail and Nathaniel are portrayed by Timothy Spall; during the DVND battle between the two, the actor is fighting himself.