We're Getting Mutants in the MCU - The Loop
Play Sound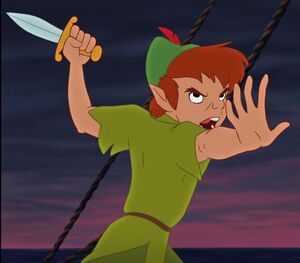 Boy Who Would Never Grow Up
Peter Pan is the main protagonist of Disney's Peter Pan movies, based on the novel of the same name. A flying, immortal youth who leads the Lost Boys, he is the constant enemy of Captain Hook in Disney Heroes vs. Villains. He also appeared in Part 3 of Disney vs. Marvel Villains War in a darker form in the Live Action Universe.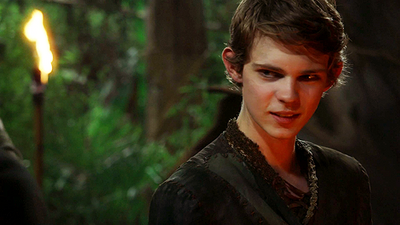 Disney Vs Marvel Villains War - Part Two
Disney Heroes Vs Villains War
Captured
In France, Judge Claude Frollo was invited by a famous Ringmaster to attend his circus. Though Frollo was skeptical of the idea, he decided to tolerate the request. At the same time, the flying boy Peter Pan decided to amuse himself by crashing the circus. Seeing Peter flying about, Frollo believed him to be a witch and ordered his men to arrest the youth. Not taking kindly to Peter's intrusion, the Ringmaster also joined the fray, using his whip to attack Peter, though he evaded the attack. Knocking aside Frollo's guards, Peter chased the Ringmaster across the ring, making him trip and fall into a bucket of water, humiliating him. While Peter and his fairy friend Tinker Bell laughed at the Ringmaster's misfortune, Frollo ordered his men to throw ropes around Peter and drag him down. As Peter gets tied up and dragged away to execution for witchcraft, Tink flew away to find help.
Freed
Thankfully for Pan, Tinker Bell and the Lost Boys arrived to free him. One of the Lost Boys fired a stone at Frollo's horse with a slingshot, making it buck the corrupt judge off. Tink and the Lost Boys charged in and started trading blows with Frollo's men, driving them back. The Boys set Pan free, but were confronted by the Coachman, Foulfellow, and Gideon. Tinker Bell tricked Gideon into hitting Foulfellow on the head, and the Lost Boys delivered another blow, knocking him out. As Stromboli arrived on the scene to assist Frollo's troops, Pan, Tinker Bell, and the Lost Boys escaped back into the wilderness.
Teaming with Robin Hood
While escaping from Paris, Peter Pan and his friends stumbled across Robin Hood and Little John, who were planning a raid on the Palace of Justice to liberate the prisoners Frollo still held. Eager for vengeance against the judge, Peter and the Lost Boys decided to join them.As Robin Hood and Peter Pan planned their assault on Frollo's forces in Paris, they decided to split up into two teams to stand a greater chance of success. Peter and the Lost Boys would attack the Palace of Justice where Frollo was stationed and liberate the prisoners there, while Robin attacked the English embassy, where Prince John and many of Frollo's allies were staying, as a diversionary attack to draw troops away from Peter.
Vs Captain Hook,Queen of Hearts and Prince John
Entering the Palace of Justice, Peter Pan found that Frollo was away but his three top generals, Prince John, Captain Hook, and the Queen of Hearts, were watching over the prisoners. They soon noticed Peter, who drew his dagger and launched the attack. The Lost Boys swarmed the Palace, throwing paint cans on the Queen of Hearts' card soldiers. Captain Hook tried to sneak up on Pan and stab him with his hook, but Pan dodged, leaving Hook's hook caught in a wooden pillar. Prince John's wolf archers moved in to attack Pan, but he threw his dagger at them, pinning them to the wall. The Lost Boys managed to make it to the prison cells, breaking out Frollo's prisoners. As Hook's pirates and the Queen's cards tried to stop the prison break, Tinker Bell tackled the Queen, knocking her to the floor. With the attack a complete success, Peter escorted the prisoners to safety, with Frollo's forces in hot pursuit.
Teaming with Jim Hawkins
Outside of Paris, Peter Pan stumbled across Jim Hawkins, who had come to Earth to collect his thoughts after the run-in with John Silver. Making friends with Peter and Alice (who had decided to stay with the Lost Boys), Hawkins agreed to join them in overthrowing Frollo.
Vs Abis Mal
Hearing that one of the ships in Zurg's invasion fleet had crash-landed near Forbidden Mountain, Peter Pan and Jim Hawkins set out to capture it to use as their own. Though the crash-site was guarded, the two youths found that the bumbling Abis Mal and his men were the ones tasked with watching the ship. Peter flew into the rigging and started taunting Abis Mal and his bandits. As Mal's goons tried to attack him, Peter evaded their clumsy efforts and caused them to run into each other. While the bandits were distracted, Jim knocked a spinning piece of machinery into them, bowling them over. Peter then threw a knife at Abis Mal, slicing his hat apart. Jim fired on Mal with his blaster pistol, forcing him to run for cover. Peter then used the rigging to launch himself at Mal, knocking Mal off the ship and into the water. Jim and Peter then claimed the ship and departed with it; though the ship's flight capabilities had been damaged beyond repair, it could still function as a conventional ship.
Talking about Lost Boys
With no word from the Lost Boys, Jim Hawkins, Tinker Bell, and Alice were concerned that they may have been captured, but Peter Pan insisted that they were fine and would be back soon.
Vs Friends on the Other Side
Tasked by Queen Grimhilde with rebuilding their forces after the avalanche during their ambush of the resistance forces, Doctor Facilier called on his Friends on the Other Side to help corrupt the shadows of heroes into more shadow demons under his control. The Friends first targeted Peter Pan and Jim Hawkins on their flying ship (though the flight mechanism was still broken, Tinker Bell was able to keep it aloft with her pixie dust), where they worked their magic on Pan, bringing his shadow to life. As Peter tried to get his shadow under control, the Friends menaced Alice and Tinker Bell. Tinker Bell managed to hold them off with her pixie dust, destroying many of the shadow demons. At that moment, Facilier's Shadow arrived to assist the Friends, kicking Tink to the ground. With Alice's help, Peter finally managed to catch his own shadow, but Facilier's shadow started to close in. Just then, Jim Hawkins arrived and destroyed the shadow with a shot from his blaster. Peter then reattached his shadow, regaining control of it.
Vs Zurg Forces
Infiltrating the airship being used by Peter Pan and Jim Hawkins to recover the Unimind device, Sliver's pirates broke into the armory and took the ship's weapons for their own. As the pirates began their attack on Pan and Hawkins' team, Zurg's other soldiers boarded the ship to reinforce them. Gantu fired on Pan with a blaster pistol, but Pan nimbly dodged the alien's fire. As Silver's pirates came to attack him from behind, Pan cut a piece of machinery loose, breaking a hole in the floor and sending the pirates plummeting to their deaths.As Jim ran in to help, he was confronted by Long John Silver himself. As Silver cornered Jim, Pan slashed at the pirate's cybernetic leg, tearing loose some wires and causing it to malfunction, allowing Jim to escape. As Scroop joined the battle, he managed to take down both Pan, Tinker Bell, and Alice, leaving Jim on his own. As the villains cornered Jim, Darkmatter prepared to execute him for his earlier humiliation, only for Silver to come to Jim's defense and knock out Darkmatter.
Battle of Planet Z
Just before the heroes were killed, however, another ship arrived on the scene and attacked Zurg's forces; Peter, Jim, Stitch, and Silver had arrived.As the heroes stormed the base, Scroop attacked Peter, Jim, and Tinker Bell, with Tink evening the odds by using pixie dust to make Jim and Scroop levitate off the ground. Even as they soared up to the tower's peak, however, Scroop was about to kill Jim when Peter tricked him into leaping into a flag, tearing it from the tower's flagpole. Realizing too late what had happened, Scroop drifted off into the atmosphere to his doom. Before Jim could meet a similar fate, Tink cut off the magic of the dust, bringing him safely back to the ground.Lightyear was about to arrest Zurg when the emperor revealed one final surprise: a self-destruct sequence for Planet Z. Activating a hidden switch in his armor, Zurg escaped through a trapdoor, leaving the heroes to die. When BEN revealed the danger to the heroes, they fled back to their ships, with Lightyear destroying the video-link to Hamsterviel's cell as the mad doctor vowed revenge.With seconds to spare, the heroes escaped, even saving Gantu and Darkmatter from certain death. As they cheered in victory, they set a course for the Galactic Federation headquarters to drop off their prisoners and receive their next mission.
Final Battle
The archdemon began his attack on the heroes, causing a great earthquake that ripped open the ground, causing Yzma and many heroes to fall into the fissures. The heroes managed to climb back to safety, but Yzma was lost.Maleficent backed Hercules up against a cliff and, despite Peter Pan and Jim Hawkins' attempts to keep her occupied, she knocked the sword from his hands, pinning him to the ground and preparing to tear him apart. As he retreated, however, he warned the heroes that as long as darkness and evil remained in the world, he would endure. He vowed to return and take his vengeance.
Disney Heroes Vs Villains War - Part Two
Heroes Vs Villains War
Hand Drawn Animated Heroes vs Villains War