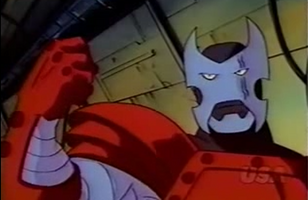 Overlord is the primary antagonist in Savage Dragon comic and animated series based on it. He is the leader of "Vicious Circle" who wants to take over Chicago.
Overlord appears in Worst Villain Tournament Ever as "Horseman of Conquest" of Roundtable of Inferno.
Worst Villain Tournament Ever
Worst Hero And Villain War Ever
Origins
Overlord was originally a mobster named Antonio Seghetti. He was once captured, but he was allowed to exchange prison term for being used as a test subject in very dangerous scientific experiments. A scientist named Robert Bolton wanted to test a machine that could potentially give humans lungs. However, the machine went haywire due to being secretly sabotaged by Bolton's jealous assistant, and Seghetti's face ended up completely burned. Since he was now disfigured, Seghetti covered all of his human parts into a mechanical suit, and renamed himself Overlord.
Overlord went on to become the most notorious criminal in Chicago, thanks to him working with a group of freaks called the Vicious Circle. Overlord's reputation led to a lot of panic and xenophobia across America towards any humanoid being that wasn't complete human. Overlord's luck ended up changing however when he crossed paths with Dragon. Overlord went from successful and feared crimelord into a lot less of a threat thanks to Dragon stopping his plans each time. Overlord wanted to expand The Vicious Circle's horizons, and after hearing about an unlucky general across the pond, Overlord decided to contact him and offer his help as he had a lot of connections across the criminal underworld.