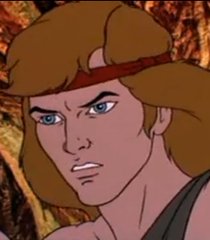 Orin is the titular protagonist of the animated movie, Starchaser: The Legend of Orin. A young miner and the seeker and wielder of an unknown mysterious weapon, Orin once became involved in an adventure to save his people from the terrible rule of Zygon, along with the former smuggler Dagg Dibrimi, the Fembot Silica, the space-ship Arthur, and the noble girl Aviana, eventually disposing of the cyborg warlord. Orin also appears in the events of Heroes vs. Villains, as one of the Galactic Federation's enforcers, joining forces with Dagg, Buzz Lightyear, and many others, to oppose the schemes of Zygon and his superior, Emperor Zurg, to whom he continuously clashed with him in an attempt to restore balace in the galaxy and bring Zurg to justice.
Heroes Vs Villains War
Non-Disney Heroes Vs Villains War
Community content is available under
CC-BY-SA
unless otherwise noted.