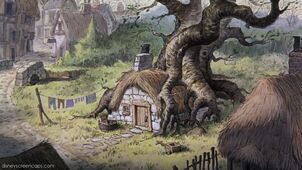 Nottingham is a region, located in England. It serves as the main setting of the English folklore, Robin Hood, and it's resulted Disney adaptations of the story. While featuring the castle of Prince John, as the main sight of the region, the village of Nottingham is also known, for the support of the villagers to Robin Hood, against Prince John's tyranny.
In the villains tournament context, Nottingham appears, in a minority, addressing only the castle of Prince John.
Community content is available under
CC-BY-SA
unless otherwise noted.