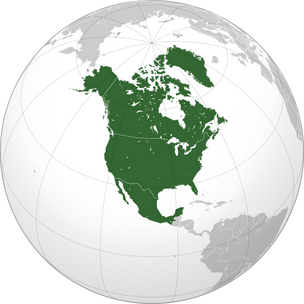 North America
 is a continent entirely within the Northern Hemisphere and almost all within the Western Hemisphere; it is also considered by some to be a northern subcontinent of the Americas. It is bordered to the north by the Arctic Ocean, to the east by the Atlantic Ocean, to the west and south by the Pacific Ocean, and to the southeast by 
South America
 and the Caribbean Sea.
North America covers an area of about 24,709,000 square kilometers (9,540,000 square miles), about 16.5% of the earth's land area and about 4.8% of its total surface. North America is the third largest continent by area, following Asiaand Africa, and the fourth by population after Asia, Africa, and Europe. North America also appears as the basis of the United States, a country composed of 50 states, with a federal district, five major self-governing territories, and various possessions.
Historically known that the continent was inhabited by natives, known as Indians, the continent was reached by European settlers, the Age of Discovery and the Early Modern period. Present-day cultural and ethnic patterns reflect different kinds of interactions between European colonists, indigenous peoples, African slaves and their descendants. Because of the history of colonialism, most North Americans speak English, Spanish or French and societies and states commonly reflect Western traditions.
Regarding the villain tournaments, North America is heavily featured in the series, though downplayed by the existence of the United States, which appear in most of the tournaments' storylines. However, in Disney Heroes vs. Villains and Heroes vs. Villains Wars, the region of the Native Lands, a location seen primarly in Pocahontas, appears as one of the central locations.
Community content is available under
CC-BY-SA
unless otherwise noted.