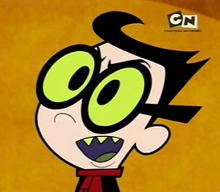 Nergal Jr. is the son of Nergal and one of the main characters in the television series, The Grim Adventures of Billy and Mandy. A unusual type of a villain, Nergal Jr. appears to be a somewhat ingrown, towards his close people. Nergal Jr. has a significant role in Non-Disney Villains Tournament, representing the main weakness of Nergal.
Non-Disney Villains Tournament
Seperated from his father, during the events of the war, Nergal Jr. finds himself trapped by the mysterious figure, Vampyro. The latter one kidnaps the boy, on purpose to lure the Triumvirate of Terror, in which his father appears as a member, into his trap. The whereabouts of Nergal Jr. are currently unknown.
Community content is available under
CC-BY-SA
unless otherwise noted.