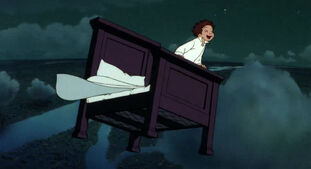 Nemo's Bed is the resting place, as well as transportation vehicle, of the young boy Nemo, first appearing in the Japanese/American animated film, Little Nemo: Adventures in Slumberland. A magical bed, which it can travel long distances, Nemo's bed has taken his passengers into various journeys. As such Nemo and his companions stumble upon fantasy realms, including the benevolent Slumberland, and the malevolent Nightmare Land. It is featured appears in Heroes vs. Villains War, where Nemo uses it as a means of transportation from one place to another.
Community content is available under
CC-BY-SA
unless otherwise noted.