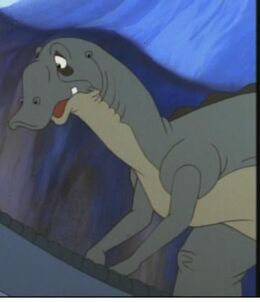 Mutt's Father is a supportive hero in the third Land Before Time installment, The Time of the Great Giving. A fearful Muttaburrasaurus, known for controlling his son through fear and force, Mutt's father is also a coward creature at default, giving the chance to evil creatures, like the Velociraptors, to hunt down the young and mature dinosaurs. Throughout the course of the original film, Mutt's Father developed a heroic side, providing assistance to the mature dinosarus against the Velociraptors. He is briefly featured in the finale of Heroes vs. Villains War, along with the grown up dinosaurs, although it is unknown if he is actually supposed to be presented or if he is only there in the footage used.
Heroes Vs Villains War
Mutt's father only appears in finale of the war, as one of the dinosaurs threatened by Hades' pet, the Hydra. Other than that, he doesn't make another appearance in the tournament.
Community content is available under
CC-BY-SA
unless otherwise noted.