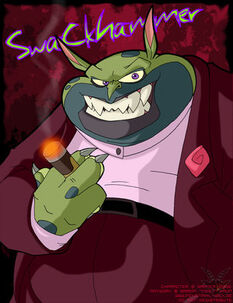 Mr. Swackhammer is the main antagonist of the 1996 Warner Bros. hybrid film Space Jam. He is the evil alien owner of the intergalactic amusement park, Moron Mountain, who seeks to enslave and bring the Looney Tunes cast to his park in order to attract more customers. In Villains Battles he's the leader of his own Alliance and co-leader of Ratcliffe's Alliance his goal is simple : defeating Pete's, Yosemite Sam's and Scar's Alliance and use them as attractions for his intergalactic amusement park : Moron Mountain so he can have more money and more customers and he made a deal with Ratcliffe : if they won the Europe will Ratcilffe's new territory but however later on Swackhammer started thinking that associating with the Governor wasn't such a good idea after all (due to Ratcilffe's many failures) he's had decided that when the right moment comes he'll double-cross him.
Villains Battles
Prepared for war
Meanwhile, a new villain prepares his plans for a presumed second war as he revives a villain who was formerly recruited by a puppeteer...
Villains Battles 2 
Villains Battles 3
In Knights of Despair
After Chef's failure, Charles Zi Britannia and the Knights of Despair (composed of Monokuma, Junko, Chris McLean, Chef, Carface, Monaca Towa, Mr. Swackhammer, Lucille the Babysitter Bandit and Mal) decide to plot something against another king.
Non Disney Heroes Vs Villains War
Villains War (Adrian C)
Vs Chernabog
Swackhammer tells his Goons that a Demon will destroy their parks,they plan to remove him.