We're Getting Mutants in the MCU - The Loop
Play Sound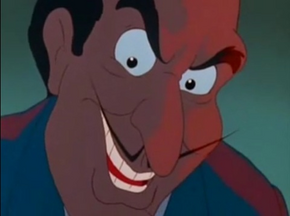 Mr. Lickboot is the secondary antagonist from Tom and Jerry: The Movie.  Though he is not a phisical threat, he is an unscrupulous lawyer. He aids many various villains throughout the Disney Vs Non Disney Villains War with his finanial backing.
Disney Vs Non Disney Villains
The Wrong Type of Client
Lickboot begins his role in the war as the head lawyer and attorney for Cruella de Vil. Yet Cruella's funds run dry due to the events of the war. Lickboot calls his client, telling Cruella that he is leaving her services so to work for a new client, Aunt Pristine Figg. The following day, as Lickboot and Figg discuss business, Cruella storms in, and threatens them. Lickboot and Figg quickly decide to take their business elseware. Cruella follows them, and they engage in a high speed car chase. In the end, Lickboot's slick driving skills prove to be no match for Cruella's road rage, and he and Figg are sent crashing into a pigstye.
Funding the Gala
After the failure known as Aunt Figg, Lickboot decides to put his services to use, working for Cat R. Waul and Carface. He uses his financial backing to fund a huge gala in honor of the new Queen of Wonderland, Darla Dimple. He then calls Madam Medusa and gloats of his new partnership with Waul and Carface, an act to which Medusa swears revenge. But Lickboot, a trained lawyer, knows how to play both sides. He funds Cruella and Madam Medusa's operation to take down Waul and Carface's empires, so he might skim the profits from both sides. Waul and Carface's plans are put to a crashing halt by Medusa and Cruella, and their criminal empire is ruined. Lickboot enjoys his newfound money, with Waul and Carface never knowing of his treachery.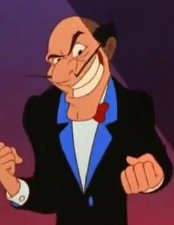 Disney Vs Non Disney Villains - Part Two
Back to the Drawing Board
Lickboot soon rejoins his old allies, Waul and Carface, after Cruella and Medusa lose their position in the financial underworld. Lickboot is eager to see how his money will inflate now that his allies are better prepared, claiming "We've got to have....MONEY!"