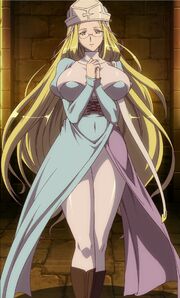 Melpha is a secondary character from Queen's Blade anime series. She is a priestess devoted to her faith. Accompanied by an angel Nanael, she is not very much of a fighter but is capable of white magic and masters the "Holy Poses." She plays a minor role in the war of Worst Hero And Villain War Ever.
Worst Hero And Villain War Ever
Origins
Melpha has spent her whole life serving in the church of Gainos. She is very dedicated to worshipping the Angels of Heaven, and considers Hemera to be her guardian angel. Melpha is willing to take lost souls on her church any part of the day. One day, a seriously injured man called Ranulf arrived to her church, informing that the Royal Knights have killed King Liones and taken over their land. Melpha ended up healing the man, but was unable to fix his hand, for it had been cursed with dark magic. After sending Ranulf away to spread the word, another two visitors came on her doorstep, a young warrior named Chifusa and her best friend Kaede. They had arrived all the way from Japan and wanted to hide a mysterious scroll in her church. Melpha accepted the two women's plea, and she offered for them to stay temporarily in her church as their kingdom was being overrun by the Royal Knights' mad power.
Sending The Two On A Mission
One day, the guardian angel Hemera appeared to Melpha, telling that she must find the Seven Deadly Sins. Melpha refuses to have anything to do with sin because of her faith, but sends Chifusa and Kaede to find them instead.
Community content is available under
CC-BY-SA
unless otherwise noted.