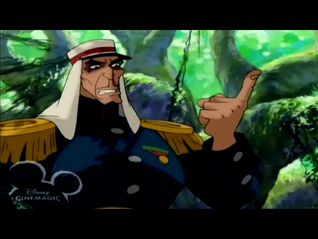 Lt. Colonel Staquait is an antagonist in the Disney animated television series, The Legend of Tarzan. He is a minor player in the second Disney Vs Non Disney Villains War.
Disney Vs Non Disney Villains - Part Two
King Ratcliffe hires Staquait and his henchmen to defend England from the assaults of Admiral Zhao. Joining Staquait is Count Rokoff, another villain from the same animated series. During the Battle of England, Staquait takes out a few Fire Nation soldiers. His fate is unknown by the end of the battle, though it is presumed he joined forces with England's newest king, Amon.
Disney Villains War 2
Disney Vs Marvel Villains War - Part Two
Disney Vs Anime Villains War - Part Two
Disney Heores Vs Villains War - Part Two