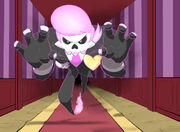 Lewis is the main protagonist/antagonist in the resulted adaptation of the song, Ghost from the American indie pop band, Mystery Skulls. A former member of the musical band, Lewis is a ghost haunting an abandoned mansion, who tries to settle his life on the bright side, before his actual death. Interesting enough, Lewis' characteristics bears a close resemblance to Scooby-Doo franchise's fictional character Fred.
Regarding the villains wars, Lewis has a minor, yet a significant, role in the Non-Disney Villains Tournament.
Non-Disney Villains Tournament
Lewis falls under the control of Vampyro, during the events of the war. When he loses strength, thanks to the Triumvirate of Terror, Vampyro summons Lewis to deal with the trio. Lewis has enough magical energy to stun Discord and knock off Nergal. Just as he is about to deliver the final blow, Lewis is stopped, when Nergal exposes his true feelings to the ghost, as his confess the loss of his son. The two then settle down, only for Vampyro to crush the ghost's heart, hoping that he would put him in track. However, Lewis loses his temper and unleashes a powerful blast of magical energy, that obliterates Vampyro. While Nergal is about to leave the fortress, Lewis confess his secret, which apparently becomes similar to that of Nergal. Indeed, Lewis loses his wife, Vivi, prior to the events of the war. Upon explaining his story, Lewis fades away, not becoming the servant of another master, anymore.