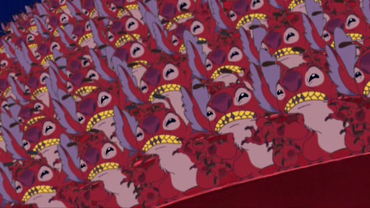 Leroy's Clones are multiple versions of the original creature, Leroy, created by Dr. Hamsterviel. They are the primary villains in the disney animated movie, "Leroy and Stitch", a spin off movie of the franchise, "Lilo and Stitch". The Clones of Leroy play a minor role in the villains tournaments, usually been defeated by other powerfull characters.
Disney Villains War
Dr. Hamsterviel creates his army of clones of Leroy and assembles them in New York, for a confrontation with David Xanatos. With Hamsterviel occupying somewhere else, Emperor Zurg, Hamsterviel's master, takes control of the creatures. The Leroys blast down the Steel Clan. However, they are no match against Demona, who used her magic to strike them down.
Disney Vs Anime Villains War
Creation
During the final events of the war, Dr. Hamsterviel invents a Clone Machine, to bring upon multiple soldiers of Leroy on the universe. Upon birth, Hamsterviel takes them to the Heed's lair, to collect an Chaos Emerald, a powerfull crystal of unlimited power. With some of the clones working as Hamsterviel's pilots on his ship, while at the same time creating a new weapon, against their enemies, the rest of the clones keep their positions, as fighter aliens. When the Skeleton King throws Hamsterviel over of his flying platform, one clone of Leroy is seen, as he was supposedly his duty to catch his master, only for him to step aside, as Hamsterviel is crushed on Earth. However, that clone's humor does not last for long, as the Skeleton King blasts a boulder, upon the clone, killing it. A survived Hamsterviel and his remain Clone army then retreats from the Heed's hideout, after Zurg and his Grubs activate a ray, that destroys all living beings on the Heed's lair. Though Zurg's forces, Scrapperton's forces and the Heed manage to escape from the catastrophe, some of Leroy's Clones, which remained on the lair, were destroyed by the ray machine.
Defeat of the Clone Army
Later, the Metarex, Hamsterviel's original master, gets attacked by Zurg's forces. Hamsterviel then brings on his remain clone army into the battle, by sending them to attack the Skeleton King and the Formless Minions, only to be pelted by the Minions' weapons, either got freezed, melted or dragged away from the battle. When Mr. Kat shrinks Vegeta's size into normal, in which he was a giant before, Vegeta summons a radiaton of energy, that wipes out the remain clones of Hamsterviel.
Community content is available under
CC-BY-SA
unless otherwise noted.