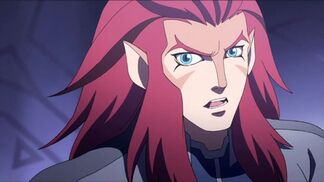 Leo is a minor, but central figure, in the original and the 2011 reboot animated series, Thundercats. The original Thundercat, and the ancestor of Lion-O, Leo makes minor appearances in original series, with many of them seen in flashbacks, or under the impresonation of his descendant, Lion-O. He is also one of the main characters, who oppose Mumm-Ra's designs. He also makes a brief appearance in the third Disney vs. Non-Disney Villains War.
Disney Vs Non-Disney Villains War - Part Three
Leo appears in a non-canon role in the third part of the war, standing at Mumm-Ra's side, as the sword of Plundaar is forged. He does not make another appearance.