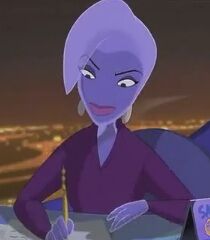 Leah Estrogen is the secondary protagonist of the animated segment of the movie, Osmosis Jones. A former secretary of the stubborn Mayor Phlegmming, and the love-interest of the titular character of the movie, Leah, along with Osmosis Jones, currently serve as operators of the Frank Police Department, saving the body of Frank Detorre from hostile viruses.
According to the villains war context, Leah Estrogen is featured as an alien life-form, rather than a bloody cell itself, assuming a fully personality. While she briefly appears in the Non-Disney Villains Tournament, she is heavily featured in Heroes vs. Villains.
Non-Disney Villains Tournament
While staying out of the conflict, Leah will find herself threatened by various sources of evil. When Korso and Preed make their move to capture her, Leah warns them to leave. At the same time, two other bounty hunters, Thrax and Tyler, intercept into the base, with the same intetions with the other villains. During the battle of the space villains, Leah attempts to escape, only to be caught by Thrax. The virus then takes Leah hostage, leaving Korso and Preed empty-handed. The current whereabouts of Leah are currenlty unknown, since she isn't featured in the later stages of the war.
Heroes Vs Villains War
Community content is available under
CC-BY-SA
unless otherwise noted.