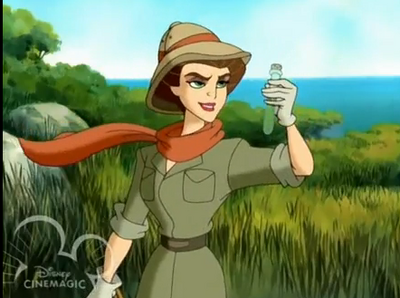 &nbsp Write the text of your article here!
Lady Waltham was a villaines in The Legend of Tarzan series and a minor player in both Disney villains War and Disney vs Marvel Villains War.
Disney Villains War
Vs Shere Khan
Following Clayton's death at Shere Khan's hands, Lady Waltham vowed to avenge her brother. She tracks down the ferocious tiger and engages in a battle with it. Using a jungle toxin, Waltham was able to weaken Shere Khan and cause the tiger to fall into a pit of molten lava.
Dealings with Tremaine
After taking care of Shere Khan, Waltham had no further interest in the villains war and just stayed out of it. However, Lady Tremaine invited Waltham to her estate for tea. Once there, Lady Tremaine tried to forge an alliance with Waltham. However, Lady Waltham had no interest in further invvolving herself in the war now that her brother was dead. Seeing no further use for Waltham, Tremaine disposed of her using the wand.
Disney vs Marvel Villains War
Power and Revenge
Following the death of David Xanatos at the hands of Ultron and Baron mordo, Lady Waltham managed to become the new CEO of Xanatos Industries. Immediately upon ascending to her new position, Waltham began to put into action her revenge against Kraven for killing her brother. With the help of Owen, Waltham digitized Kraven (and accidentally Scar). Using the data, Waltham was able to virtually "hang" Kraven just as Kraven did to her brother Clayton. Waltham remains CEO of Xanatos Industries, but, with the tides of a second war brewing, that position is in dire jeopardy.