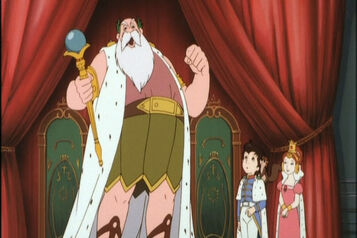 King Morpheus is the ruler of the dream realm of Slumberland, first appearing in the animated film Little Nemo: Aventures in Slumberland, based on the famous comic strip by Winsor McCay. While he appears to be an old man, and acts as a serious leader when necessary, he is a child at heart and enjoys playing and having fun with his people and his chosen successor Nemo. His royal scepter has the power to ward off the terrible forces of the Nightmare King. However, his rule is threatened yet again by either the forces of Chernabog in Disney vs. Non-Disney Villains or the forces of the Horned King in Heroes vs Villains.
Disney Vs Non Disney Villains War
Pre War: Assasignated
Prior the events of the first war, there was a peaceful world, with no effect of darkness or evil force sought to conquer everything. Especially, Slumberland and it's inhabitants, had nothing to fear with, since Morpheus was the protector of his own people. However, one day had changed it all, when Chernabog and his brothers created the Crystal of Darkness, a powerful artifact, that it would wipe out all the heroes. When the Demon Lords activated the Crystal's power, all of it's dark power was spread through the universe, with Slumberland being one of it's targets. In a flash the forces of Chernabog enter the castle of King Morpheus and wrap the king in darkness and consumes him, before he would anything else, leaving the inhabitants of Slumberland defensless against Chernabog.
Heroes Vs Villains War
Non Disney Heroes Vs Villains War 
Origins
Morpheus, is the god of dreams, being one of the gods of Mount Olympus ruled by Zeus, a rival to Eris and a good friend of Athena. Morpheus is responsible for creating Inkwell Isle, a place apart from its Slumberland. Morpheus was considered a deity within the island, yet at the beginning of its creation he suffered the terrible attack of the Triumvirate of Terror that almost put his beloved island in hell and life-threatening the first living beings on his island, Seeing these atrocities, Morpheus faced the Devil, Skitzo and Bendy managing to return them to Hell, but a year later, Morpheus worried about his cartoon friends, especially Felix the Cat, who was visited by Gandalf for a time who was helping Morpheus. One day Skitzo you dare to return but in his true form as a horrible demon yet Morpheus with the help of Gandalf faced him with everything sealing him in the depths of hell.
Slumberland Abducted
King Morpheus reminds both his council and residents of Slumberland of a great war going on in the Hand Drawn World and that they will take part in it together. However, dreams start turning into nightmares when he notices illusions of spiders crawling up his robe. That's when Eris, The Duke of Vaults, Rasputin and Tzekel Kan arrive to crash the meeting and attack the council.
Community content is available under
CC-BY-SA
unless otherwise noted.