Line 1:
Line 1:
 

[[File:Junkman.png|thumb|304px]]'''Junkman '''is an evil Crash Test Dummy and main antagonist of the Incredible Crash Test Dummies Pilot.

 

[[File:Junkman.png|thumb|304px]]'''Junkman '''is an evil Crash Test Dummy and main antagonist of the Incredible Crash Test Dummies Pilot.

 
 
−

He appeared in [[Worst Villain Tournament Ever]] as Dr. K's henchman. He is set to guard [[Marquis De Singe]]'s base along with Toc-Man and Erwin.

+

He appeared in [[Worst Villain Tournament Ever]] as Dr. K's henchman. He is set to guard [[Marquis De Singe]]'s base along with Toc-Man and Erwin.

 

[[Category:Worst Villain Tournament Ever]]

 

[[Category:Worst Villain Tournament Ever]]

 

[[Category:Robots]]

 

[[Category:Robots]]
---
Revision as of 18:52, 30 August 2013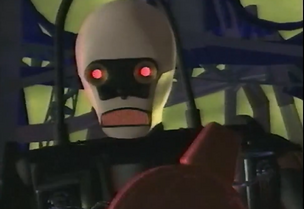 Junkman is an evil Crash Test Dummy and main antagonist of the Incredible Crash Test Dummies Pilot.
He appeared in Worst Villain Tournament Ever as Dr. K's henchman. He is set to guard Marquis De Singe's base along with Toc-Man and Erwin.
Community content is available under
CC-BY-SA
unless otherwise noted.