(3 intermediate revisions by 2 users not shown)
Line 1:
Line 1:
 

[[File:Jim Hawkins.jpg|thumb|360x360px]]

 

[[File:Jim Hawkins.jpg|thumb|360x360px]]

 

'''Jim Hawkins''' is the son of an inn-keeper who became involved in a space voyage to find the legendary Treasure Planet after finding an old map that once belonged to a space pirate. He has a father figure and mentor in the person of the cyborg [[John Silver]], but relations are strained when Silver reveals his true nature as a pirate working for [[Emperor Zurg (BLoSC Version)|Emperor Zurg]] in [[Disney Heroes vs Villains]].

 

'''Jim Hawkins''' is the son of an inn-keeper who became involved in a space voyage to find the legendary Treasure Planet after finding an old map that once belonged to a space pirate. He has a father figure and mentor in the person of the cyborg [[John Silver]], but relations are strained when Silver reveals his true nature as a pirate working for [[Emperor Zurg (BLoSC Version)|Emperor Zurg]] in [[Disney Heroes vs Villains]].

 
+
 
+

== Disney Heores Vs Villains War ==

 
+
 
+

=== Vs Gantu ===

 
+

In [[space]], the youth [[Jim Hawkins]] was flying [[Solar Surfer|his solar surfer]] near the [[The R.L.S. Legacy|RLS Legacy]], a ship searching for the fabled Treasure Planet, when he was spotted by the former [[The Galactic Federation|Galactic Federation]] captain [[Captain Gantu|Gantu]], who had been hired to keep the Legacy from completing its voyage. Gantu fired on the unarmed Hawkins, getting the attention of his friends aboard the Legacy, [[Doctor Doppler]] and [[Captain Amelia]]. As Hawkins dodged the fire from [[Gantu's Ship|Gantu's ship]], Doppler and Amelia armed themselves to defend him. Finally, Gantu got a good shot in, damaging the thruster on Hawkins' solar surfer, sending him plummeting down a crevasse. Gantu believed he had won, but Hawkins, thinking quickly, ground the thruster against the side of the cliff, reactivating it and allowing him to jet back to the Legacy. Taking advantage of Gantu's distraction, Amelia and Doppler fired on Gantu's ship, damaging it and forcing it to crash-land.

 
+
 
+

== Disney Heores Vs Villains War - Part Two ==

 
+
 
+

== Heores Vs Villains War ==

 
+
 
+

== Disney Vs Comics War ==

 
+
 
+

== Hand Drawn Animated Heroes vs Villains War ==

 

[[Category:Disney Heroes vs Villains heroes]]

 

[[Category:Disney Heroes vs Villains heroes]]

 

[[Category:Disney Heroes]]

 

[[Category:Disney Heroes]]

Line 16:
Line 29:
 

[[Category:Peter Pan's Alliance in Disney Heroes vs Villains]]

 

[[Category:Peter Pan's Alliance in Disney Heroes vs Villains]]

 

[[Category:The Royal Council]]

 

[[Category:The Royal Council]]

 
+

[[Category:Disney Vs Comics War]]
---
Latest revision as of 05:42, 21 June 2021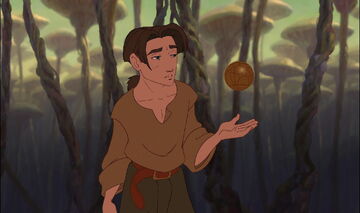 Jim Hawkins is the son of an inn-keeper who became involved in a space voyage to find the legendary Treasure Planet after finding an old map that once belonged to a space pirate. He has a father figure and mentor in the person of the cyborg John Silver, but relations are strained when Silver reveals his true nature as a pirate working for Emperor Zurg in Disney Heroes vs Villains.
Disney Heores Vs Villains War
Vs Gantu
In space, the youth Jim Hawkins was flying his solar surfer near the RLS Legacy, a ship searching for the fabled Treasure Planet, when he was spotted by the former Galactic Federation captain Gantu, who had been hired to keep the Legacy from completing its voyage. Gantu fired on the unarmed Hawkins, getting the attention of his friends aboard the Legacy, Doctor Doppler and Captain Amelia. As Hawkins dodged the fire from Gantu's ship, Doppler and Amelia armed themselves to defend him. Finally, Gantu got a good shot in, damaging the thruster on Hawkins' solar surfer, sending him plummeting down a crevasse. Gantu believed he had won, but Hawkins, thinking quickly, ground the thruster against the side of the cliff, reactivating it and allowing him to jet back to the Legacy. Taking advantage of Gantu's distraction, Amelia and Doppler fired on Gantu's ship, damaging it and forcing it to crash-land.
Disney Heores Vs Villains War - Part Two
Heores Vs Villains War
Disney Vs Comics War
Hand Drawn Animated Heroes vs Villains War
Community content is available under
CC-BY-SA
unless otherwise noted.