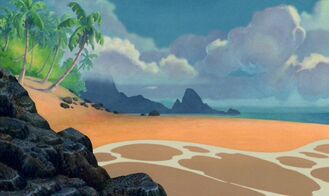 Hawaii is a largest island location, and the most recent state of the U.S. of America. It is located in the southeasternmost of the Hawaiian Islands, a chain of volcanic islands in the North Pacific Ocean. While not populous enough, in spite of the island's size, the island of Hawaii is arguably the third largest island in Polynesia, behind the two main islands of New Zealand.
Hawaii is also featured as the one of the primary setting areas, in Polynesian modern fiction. Particularly, Hawaii appears as the main setting area of the Disney's franchise, Lilo and Stitch, a location, that also appears in Disney Heroes vs. Villains and Heroes vs. Villains War, with it's role similiar to that of the original franchise.
Community content is available under
CC-BY-SA
unless otherwise noted.