Jurassic World: Dominion Dominates Fandom Wikis - The Loop
Play Sound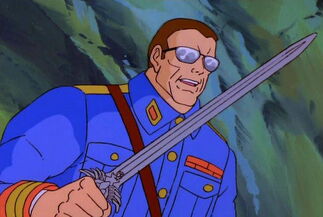 General Warhawk is the main antagonist of Rambo: The Force of Freedom Animated Series and the leader of S.A.V.A.G.E. Man who's said to be "Man Without A Country", General Warhawk claims for the World Domination and destruction of freedom. He appears as a major player in Worst Hero And Villain War Ever, as part of vicious criminal alliance GEZZAN.
Worst Villain Tournament Ever
Worst Villain War Ever R
Worst Hero And Villain War Ever
Origins
General Warhawk, Real Name Sergei T. Podovsky, was born in Soviet Union in 1964. He was enlisted in the military very early on in his life after his father died in a war. After graduting from a military academy he served as a military advisor to various soviet allies during the "New Cold War" born after the assassination of Mikhail Gorbachev. Podovsky ended up gaining arousal for violence and pain, and after meeting with a very ambitious terrorist, he seeked to invade the Crimean peninsula. His plan failed and he was kicked out of the country. Now having no country to his name, Podovsky escaped to an African dictatorship Carbombya, where he would form S.A.V.A.G.E alongside two of his allies, Sergeant Havoc and The Gripper. It is here where he would become General Warhawk.
S.A.V.A.G.E ended up terrorizing the world through various schemes, but would always fail after thanks to an organization known as Force of Freedom, ran by Colonel Samuel Trautman. Warhawk grew tired of his schemes always backfiring, and growing paranoid of the day he would finally be caught, he started the plan for a criminal alliance much greater than ever before. He was contacted by a mob boss named Overlord, who had the largest amount of relations in the American Underworld, who provided him with weapons, in exchange for manpower. Warhawk also received funding from Carbombya, which allowed him to buy Amalgam, a powerful organization established by the ambitious terrorist he had met long ago, Gauron. Through these connections, GEZZAN was born.