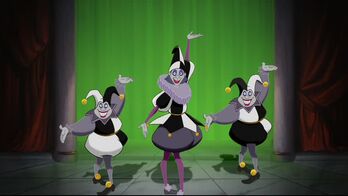 The Evil Clowns are minor villains in the direct-video sequel, "Pocahontas: Journey to a New World. A trio of troublemaker pranksters, the Evil Clowns are notorious for scheming and manipulating, though they lack of brute force. The Evil Clowns are briefly featured in the second part of Disney Villains War and also in Disney Heroes vs. Villains War.
Disney Villains War 2
Failure Perfomance
Ratcliffe hires the Evil Clowns to his cause, so that he would appeal, Queen Grimhilde and her forces in one of her feasts. However, they turn out to mock Doctor Facilier, a close ally of Grimhilde, for his previous humiliations. Not taking the event kindly, Facilier shows his real nature, as he threatens the Evil Clowns, while demonstrating a musical number, pointing not to underestimate the voodoo sorcerer's abilities. The Evil Clowns are not featured afterwards.
Disney Heroes Vs Villains War
The Evil Clowns appear as part of the Coachman's shady circus. When the lured chldren arrive at the Pleasure Island's circus, the Coachman's forces begin their grand perfomance, including the Evil Clowns too. Even though they act friendly at first, the perfomers start to cause chaos and mayhem by the end of the perfomance, that eventually lead to the captivity of the children by the Coachman. The Clowns have not make another appearance in this tournament; thus their fate remain ambiguous by the end of the war.