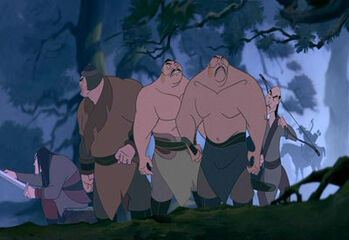 The Elite Hun Soldiers are a squad of Hun soldiers, commanded by the ruthless leader, Shan-Yu. Featured as the remaint soldiers of the Hun army, usually after a snowfall, created by various means, the Elite Hun Soldiers assist their leader to many battles, until their pressumed defeat.
They are the secondary villains of the Disney's animated movie, Mulan.
Disney Vs Non-Disney Villains War
Disney Vs Non-Disney Villains War - Part Two
Disney Villains War
Disney Villains War 2
Disney Villains War 3
Disney Villains War Reboot
The Elite Hun Soldiers appear in the reboot series in a role similar to the original, though altered with few changes.
Traversing through the borders of France, the Hun soldiers, led by Shan Yu, are on the march to attack Duke Igthorn's kingdom.
Disney Vs Marvel Villains War
Disney Vs Marvel Villains War - Part Two
Disney Vs Anime Villains War
Disney Vs Anime Villains War - Part Two
Animated Vs Video Game Villains War
Disney Heroes Vs Villains War
Heroes Vs Villains War