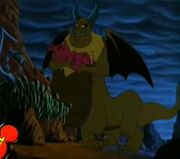 Echidna is the mother of all monsters and one of the most powerful villains in the Hercules animated series. She is a minor player in the second Disney Vs Non Disney Villains War.
Disney Vs Non Disney Villains - Part Two
Battling for Hades
After the death of her husband, Typhon, Echidna lives in despair. Hades, however, seeks her alliance and children for combat, as most of his warriors have been defeated. Echidna complies. The mother of all monsters has some distaste for Hades's newest henchman, Gaston. She witnesses the battle between her children, Queen Chrysalis, and King Sombra; she mourns the state of children today when they fail to bring down their opponents. Furthering this dismay is the fact that Gaston manages to defeat the two minions of Eris.
The Battle of the Underworld
During the Battle of the Underworld, Echidna and her child, Ladon, work to distract Tzekel Kan's native forces.
Disney Vs Non Disney Villains - Part Three
Echidna pass her allegiance to Maleficent's, Hades' partner, lieutenant, Ursula. Though she underestimates the witch's powers, she later accepts her as the leader of Hades' faction, after she defeats Mane-Iac and her henchponies.
Disney Villains War 2
Campaign Against Frollo
During the events of the second war, Hades pays Echidna a visit in the Underworld and asks her a few monsters, who they will destroy Frollo's growing empire. She gives to him the Boar, the Wolf, the newly resurrected Backson and Gegenius, although the monsters failed to deal with Frollo's forces. Later, Hades pays another visit to Echidna, requesting a full attack at Frollo's forces. She agrees, as she heads to Paris, along with her remaint children. When the monsters of Echidna didn't stop the troops of Frollo, Echidna enters the battlefield. She manages to knock out the Huntsman, but she is no match against Mechanicles skills, as he uses his Lobster Mechanical Device to throw Echidna to an unknown location.
Disney Vs Marvel Villains War - Part 2
Vs Red Hulk
Echidna and her children participate in the fight, against the Red Hulk, on Hades' orders. When the monsters prove no match against the Hulk's strenght, Echidna herself interfers amd battles the Red Hulk. She knocks out the red giant with her superhuman strenght. However, she soon meets her end, when Red Hul unleashes a radiation of energy at her, sending Echidna to an unknown location.
Community content is available under
CC-BY-SA
unless otherwise noted.