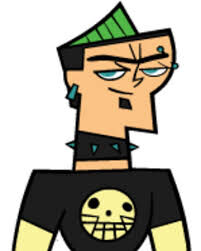 Duncan is a character and the recurring antagonist on Total Drama. He is the secondary antagonist, later deuteragonist in Total Drama Island, the main protagonist in Total Drama Action, a supporting antagonist/anti-hero in Total Drama World Tour and a supporting protagonist/anti-hero in Total Drama All-Stars.
Duncan is a delinquent punk currently on parole from Juvie and, despite being a generally good person at his core, has displayed multiple villainous tendencies in his harsh treatment of those around him during the competition.
He frequently lectures, mocks, tricks, cheats, manipulates and picks fights with many of the other contestants, especially Harold, and is supposedly a certified pyromaniac. In Total Drama Island, he was on the Killer Bass team, in Total Drama Action he was a member of the Screaming Gaffers, and in Total Drama World Tour he quit before the teams were made, But was on "Team Chris is Really Really Really Really Hot" after returning in I See London.... He was one of two possible winners of the Total Drama Action season, and is the overall highest ranking contestant across the three seasons, his absence for the first half of Season 3 notwithstanding. Duncan had a prominent, longtime love-hate romantic relationship with Courtney, which completely fell apart because of their abusing relationship, and became a hostile rivalry in World Tour.
He was voiced by Drew Nelson.
In Villains Battles he was Recruited by Yosemite Sam and Scar in order to help them.
Community content is available under
CC-BY-SA
unless otherwise noted.